About Us
Agri-Services is KZN North Coast- based company. The principal of Agri-Services, Nick Robert, is a 3rd generation cane farmer and holds a BSc degree in Agriculture.
The success of Agri-Services is based on the absolute commitment of Nick to supply a professional and sustainable service to his clients and he prides himself on the paramount principles of honesty and Integrity in all facets of the business.
Agri-Services has evolved into a company with a national footprint and has built an excellent reputation in its chosen field of operations. Management and staff represents decades of combined experience – which is shared with our customers on an informative and on-going basis.
Our core-business encapsulates the importing, and local distribution of herbicide application equipment. This includes knapsacks, boom-sprayers, mist blowers, ripening booms, filters, pumps, nozzles etc.
Our extended product range represents the best quality products, which we source globally – and we provide a full service / spares backup to all equipment that we supply into the market.
Should you make the decision to deal with Agri-Services you will find a pleasant and knowledgeable supplier, who has at heart your best interests and the building of long-term relationships.
Executive Management
Agri-Services is led by 2 passionate and dedicated individuals, Nick Robert and Danie Kok. They are an example to their peers on business ethics and leadership. They lead by example, know their products intimately and strive for innovation.
Their vision for the success of the company is to know that our customers are able to see their return on investment.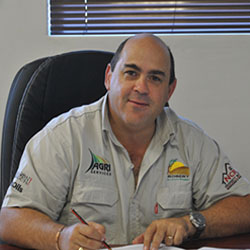 Nick Robert
Managing Director
Nick Robert is the Managing Director of Agri-Services. He is a 3rd generation farmer and a successful business man. Nick started Agri-Services in 2011. Nick has a unique position in the business simply due to the fact that he uses what he sells, and also innovates to make what works for him, which Agri-Services then is able to market and sell as a solution.
Danie Kok
General Manager
When Danie Kok joined the Agri-Services team in 2014, he started out as a sales representative. His passion for the company lead to him becoming the National Sales Manager and later, the General Manager. His passion for promoting the business and its products means that he still travels throughout the country to visit customers and build new relationships.
Agri Services Workshops
The machines we build and modify at our workshops are part of our Agri-Quipment brand. Agri-Quipment are the innovative ideas of Nick Robert, brought to life. Here we build the equipment, modify existing machines and do repairs. The Workshops are manned by knowledgeable staff who strive to meet the needs of the client in a cost-effective manner.
We also strive to establish good relationships with our clients to ensure after-sales service and support of our equipment providing effectivity and continuity to our clients.
Umhlali Workshop
The Workshop is managed by Viljoen Malan, who, under the leadership of Nick Robert, designs and manufactures innovative farming equipment. He manages a team of 4 qualified Boilermakers and Welders who bring these concepts to life. Viljoen has received training certificates from ARAG Italy on precision farming equipment. His is able to share his technical expertise with the team, for the benefit of our customers. From here, the workshop service the needs of the surrounding farmers. They also travel to far away areas to service and repair equipment.
Laeveld Workshop
The Laeveld Workshop is located in Nelspruit. The workshop is managed by Trevor Stein, who has years of experience as a qualified boilermaker. Here, machines are manufactured, modified and repairs done on equipment. The newly established workshop in Nelspruit service and repair various equipment in the surrounding area in the Mpumalanga Lowveld.
Get In Touch
Contact Us
Please leave your contact details below, and one of our friendly and knowledgeable team members will contact you shortly to assist.